Untitled Geek - Episode 4 - Easter Eggs
[ 2:02:41 ]
Play Now
|
Play in Popup
|
Download
(436)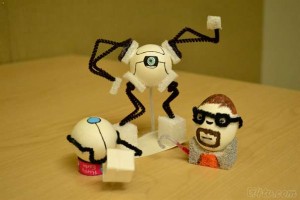 This one's a little overdriven on the audio, but we're getting better every time. We're like learning machines.  -Tev
Our fourth episode is now ready!
SHOW NOTES:
Drink of the Show: "Brass Monkey"
Recipe:
1 oz Vodka
1 oz Rum
Orange Juice
Pour shots into an old-fashioned glass with ice cubes.  Fill the rest of the way with OJ.  Stir well.
Top 5 List: Top 5 Easter Eggs
Easter Eggs are hidden things in movies and video games.  Here are some of our faves.
Television
What we've been watching: Bramwell, The Killing, The Wire, Nurse Jackie, Federation (proposed show), Enterprise, DS9, Voyager
Comics
What we've been reading: Irredeemable
Movies
What we've been watching: Vertical Limit, Inception, Ratatouille
News:
Trailers:
Video Games
What we've been playing: Portal 2, Super Meat Boy PC, Dragon Age 2, Game Dev Story
Music (from Batman for the NES):